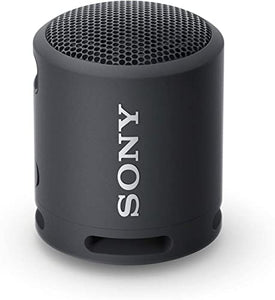 QUALITY PHOTO
Sony SRS-XB13 EXTRA BASS Wireless Bluetooth Portable Lightweight Compact Travel Speaker, IP67 Waterproof & Durable for Outdoor, 16 Hour Battery, USB Type-C, Removable Strap, and Speakerphone, Black
Regular price
$28.00
Sale price
$228.00
A passive radiator works together with a full-range speaker to enhance low-end tones, giving bass a boost. Sound Diffusion Processor spreads sound in any space, with its DSP technology. Listen for longer with up to 16 hours of battery life and convenient battery life indicator. The XB13 is durable and portable, and includes a specially engineered strap to make it easier to travel with. But don't be fooled by its small size - this little speaker packs plenty of punch.
Waterproof and dustproof with an IP67 rating and new UV coating for extra durability in the elements, you can take your speaker to the pool, the forest, the city, or wherever you'd like - the XB13 will keep on playing.
Feel free to call us for any assistance, we'll be glad to help. Tel: 888.212.1119 
Our office hours are Mon-Thur 9:30-5:30
Email us anytime
Emails are responded to in the order they are received. We strive to get back to you as soon as we can but please allow 1-2 business days to receive a reply.
---
Share this Product