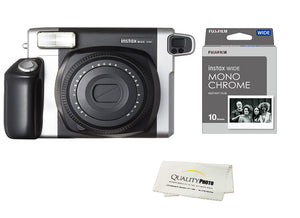 QUALITY PHOTO
Fujifilm Instax Wide 300 Instant Film Camera Black with Fujifilm Instax Wide Monochrome Film 10 Exposures 1 Pack
Regular price
$149.99
$0.00
The Fujifilm Instax Wide 300 Instant Film Camera has many improved features such as a tripod socket, real image finder and lens ring dial with focus zone setting. The Instax Wide 300 uses Instax Wide film for vivid, high-quality instant prints to take photos twice as wide as Instax Mini Film. This wide film format is suitable for instant photos at parties / school projects / crafts / business applications and much more. Instax Wide film captures and delivers vivid, high-quality prints in an instant. The accompanying close-up lens expands the range of photo shooting. Automatic flash for low-light shooting" optimizes the luminescence in accordance with the distance. Use backlighting to enhance your photos thanks to the "Fill-in flash by flash-on button. Exposure compensation (Lighten-Darken Control)" enables you to get just the right mood.Built into the Instax Wide 300 is a flash with automatic power settings and a fill flash mode. This complements the auto exposure settings to produce well-lit images. Exposure compensation is available from ±2/3 EV via a lighten-darken control for adjusting the shots based on the situation. Also, there is an LCD screen that displays number of shots remaining, the exposure compensation, and flash mode. Additional features of the camera include a film pack confirmation window to check and see if film is loaded and a tripod socket for when additional stability is needed. A close-up lens adapter is included for focusing as close as 15.5" from the subject, and the Instax Wide 300 runs on 4 AA batteries and comes with a strap.Features: Retractable 95mm lens features a fixed f/14 aperture with a construction of 2 components and 2 elementsWorks with ISO 800 Instax film Focusing ranges from 3.0 to 9.8' or 9.8' to infinity Lens ring dial for adjusting focus setting Electronic shutter release with speeds from 1/64 to 1/200 seconds Lighten-darken control exposure compensation with ±2/3 EVFlash recharge time of 0.2 to 6 seconds and red. The INSTAX Mini Monochrome film has been developed in response to an increasingly enthusiastic and sophisticated consumer, as they expand their instant film photographic expression and creativity. INSTAX Mini Monochrome not only opens up new artistic options, but also adds more ways to have fun using INSTAX cameras with family and friends, and at special places and events.
Feel free to call us for any assistance, we'll be glad to help. Tel: 888.212.1119 
Our office hours are Mon-Thur 9:30-5:30
Email us anytime
Emails are responded to in the order they are received. We strive to get back to you as soon as we can but please allow 1-2 business days to receive a reply.
---
Share this Product